Wilshire Labs (Pvt) Ltd. is a pharmaceutical & nutraceutical manufacturing organization producing innovative and quality products, which help to maintain, prevent, cure, and alleviate illnesses as well as save lives while serving the best interest of consumers, customers, shareholders, and employees. The core focus of the organization is to bring forth new, unique, innovative, value-added, and niche products for meeting the health and wellness in all fields of medicine including alternative and traditional medicine but with knowledge-based research data.
A rich product portfolio has been developed and vast coverage of all major therapeutic areas has proved the fulfillment of the said commitment in a short period and the trend is thriving in the years to come and shall prove its mettle by further enriching the product portfolio according to global needs. Wilshire is devoted to its commitment to deliver and achieve its aims to the fullest through the highly motivated and revolutionary peak performing conscientious team, stringently adhering to international standards of cGMP which include GLP, GSP, GDP, and having a manufacturing facility with a covered area exceeding 29629 sq. ft. equipped with latest hi-tech machinery & equipment.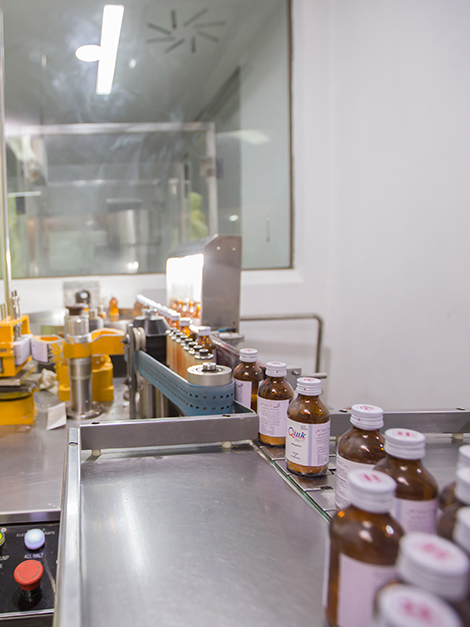 Quality Assurance mechanics are practiced throughout the organization along with stringent quality control checks both at the in-process as well as finished product stage during manufacturing through validations and using calibrated equipment. The company has established a competitive edge in the industry over other players in the market, enabling it to become the industry benchmark in growth and quality. According to the IMS Pakistan, Wilshire Labs is ranked among the top 50 companies from more than 600 pharmaceutical companies including multinationals in Pakistan in terms of sales. Our manufacturing facility is fully assured for requirements of Data Integrity, laboratory equipment is in compliance with 21 CFR Part 11 requirements as per WHO/FDA guidelines.
With more than three decades of serving the healthcare segment of Pakistan and a commitment to elevating the quality of life of Nations around the globe; Wilshire Labs is now expanding its horizon by adding health and wellness products to its portfolio. We are well prepared for manufacturing natural, herbal and nutraceutical remedies, medicines both prescription and OTC through our dedicated R&D team and "state-of-the-science" newly established manufacturing facilities namely Wilshire Labs (Pvt) Ltd. (Natural / Herbal / Nutraceutical Unit) situated at Farooq Industrial Estate, Lahore.
Since the beginning, human being has been using natural herbs for the treatment of various diseases and fulfillment of their nutritional needs. With the unveiling of nature's secrets through more and more research, now the scope of treatment with herbal/natural medicines has become more acceptable as well as refined and sophisticated. At Wilshire Natural, we are committed to continuing this tradition of use of natural/herbal elements of nature with a blend of modern technology and well-researched & balanced formulations to add value into the consumers' lives. Wilshire Natural has been established to meet the increasing demand for herbal/nutraceutical products in the international market by achieving the highest possible levels of quality with the latest GMP-compliant manufacturing equipment.
Our unit has been specially designed for exports to the USA, Canada, European Union, and Central Asian countries, and we are also focusing on the organic natural products market. Wilshire Natural believes in providing access to high-class medicines to nations across the world by improving the quality of human life through continuous Research & Development.
Tablet

Capsule

Dry Syrup

Softgel

Liquid Syrup

Sachet

Gels

Ointments

Drops

Lozenges
At Wilshire Labs Natural, we assure you to provide the best of the nature's gifts in coming years.